Got Love?
Today I came into the office, I told my female colleagues(I'm the only guy in the department) I am being generous and I want to give away my love. They were being skeptical about me, I tried to convinced them that I am really giving away my love for today. I was being persistent, in the end they have no choice but to accept my love.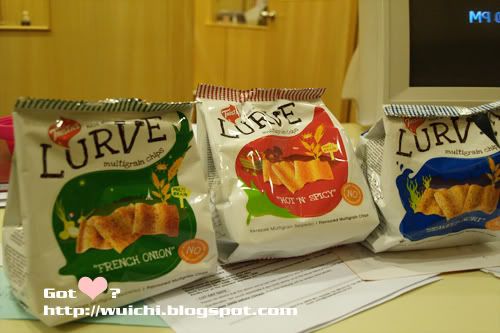 LOL, lurve is actually the latest snack item from twisties and kraft. I saw the advert about it, they made as if the snack is to die for. I am curious about how it taste, I do not usually buy junk food. The label claims that it is healthier than other junk food, but junk will be junk no matter how you try to change it.

Lurve comes in three flavors, Sea weed, French onion and hot & spicy flavor. The chips are made from multi grain, it actually taste good. Unlike the typical junk food taste. However there is a downside to this snack, the sodium level is obviously high. You may want to drink lots of water after consuming it. Second, it is very pricey, for 45grams you have to fork out RM2.95. It's alright for me, since I am not a fan of junk food and I just bought it to try it out.

Do grab one from your supermarket, it is really made with lurve and it's tasty too.
Labels: junk food., kraft food, lurve, twisties