Rainforest world music festival 2008 final
So this going to be the final post about the 11th rainforest world music festival 2008. Me and my roomies woke up late again, this time I managed to catch the final work shop of the day the "drum Dance". The workshop was held at the theater, I bumped into
Irene
at the cafeteria near the theater and we proceed on to the theater.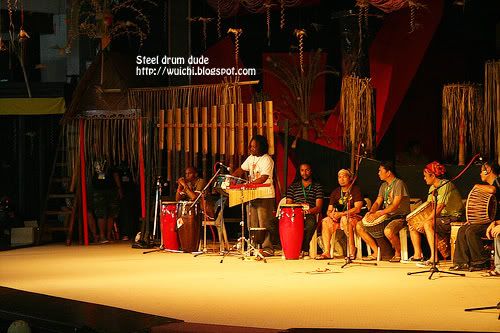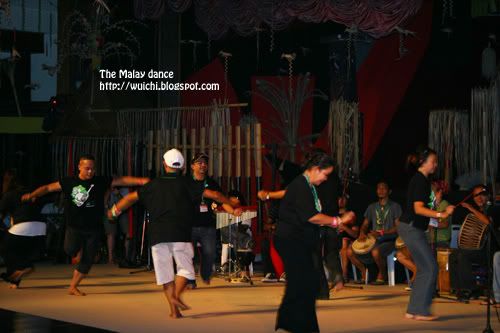 The workshop is about drummers meeting dancers, by combining the drums beats and dance moves to create the drum dance with each individual drummers from different continent around the world. The dancers performed the traditional Malay dance which is used during special occasions, they invited the audience to join them and teach some moves. After the dance lessons, there was a showdown between the drummers, the members of Okyotaan between one of the African groups. It was totally awesome, steel drum incorporating with traditional Indian drum beats? fusion, it was something worth to listen. Check out the videos below for the workshop session.

On to our spot for the performance for the night, Vinod and Vignesh were already there saving the best spot for the night. The line ups for the night is NEW ROPE STRING BAND (United Kingdom), ORCHESTRA ANAK JATI BISAYA (Sarawak), HIROSHI MOTOFUJI (Japan), OIKYOTAAN (India), ROSS DALY (Greece)KASAI MASAI (Congo/UK) and the grand finale.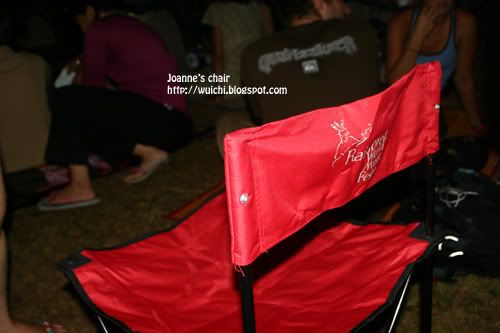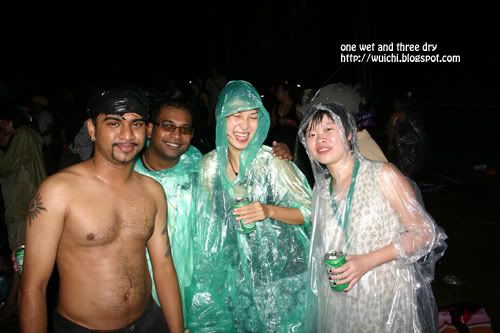 I have already seen the new rope string band on day 1, The band is very good at keeping the crowd entertain with their witty acts. The weather looks promising and we were wrong about it, it started to rain again. It is a good thing that we were all prepared, the few of us had our ponchos packed in our bag.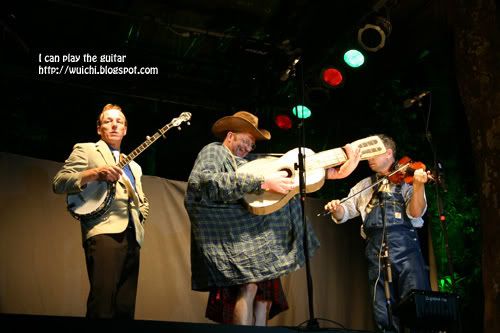 Ochestra anak Jati Bisaya who came all way from Limbang, I do not often see Bisaya performance anywhere and I am not familiar about their culture as well. Their music instruments consist mostly of gongs and other percussion instruments, the band members are all kids. Kids who are still in primary school and I bet it must be such a wonderful experience for these kids to perform in front thousands of people.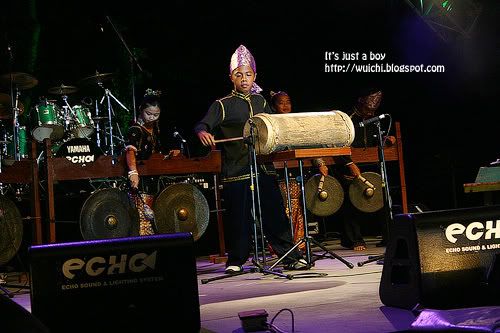 After the seeing the Oikyotaan's members performing at the workshop, I was pretty excited about their performance. The band was good, the got the crowd dancing to the music. It did sound a little bollywood style, still it was fun getting your feet moving to the beats.

Last performance of the Kasai Masai, I cannot really recall how was their music. The performance was good I suppose, since there was people dancing and mud flying everywhere. When it was time for the finally, they did the same thing like last year. Each of the band comes right back to stage for last time, the confetti canons were fired to signal the end of the 11th rainforest world music festival 2008. As we were leaving SCV, we see people still playing in the mud. They were throwing mud everywhere, they were even throwing the mud on the stage with the volunteers and the bands there(such hooligans). Till then, I shall see you guys next year at the RWMF 09.
*To the Singapore security dude who volunteer for the rwmf whom I have insulted, I am sorry for calling you names and it shall never happen again.*
Labels: events, kuching, Rainforest world music festival 2008