Long hair for me?
I was talking to Rych on msn, he told me that I would actually look better with long hair like
Arthur's
. I have never had long hair before, the longest it ever grew was somewhere before neck and still pathetically short. Also the company I am with now have a no long hair allowed policy, I think the longest I can let it grow is probably like Pete wenz's hair or like Tyson Ritter.
Since I am curious how I would look like with Arthur's hair length, I have decided to Photoshop myself with long hair and here is the results before and after.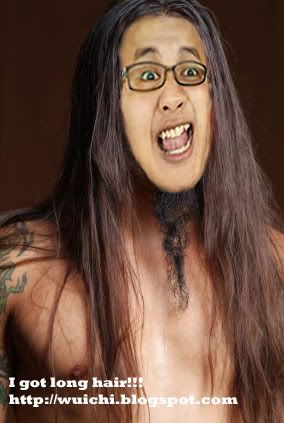 After seeing the photo myself, I cannot help but to laugh at myself. I just find it so ridiculous, maybe I will stay with the short or medium length hair for the time being.