Ratty New Year Part 2
So after many jumps, it is time for the reunion dinner already. This year they did not cook tons of food that could fed an entire long house family, instead it was just sufficient for everyone which was good since none has gone wasted. Every year, I would always go through the trouble of bringing the Yee Sang back to Limbang. What is a Chinese new year celebration without tossing the Yee Sang?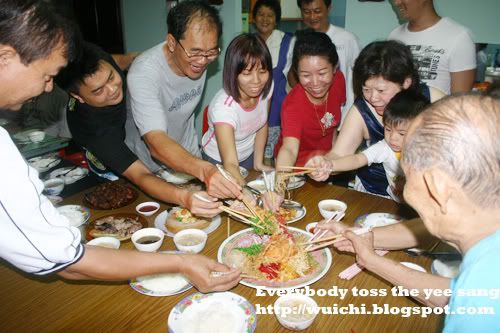 After dinner we had some drinks, some of wondering around the house while waiting for the clock to strike midnight. Me and Cousin fell asleep! They woke us a few times to let us know that is minutes till midnight, but our snooze mode was still on. Finally we go up, it was like a warzone and you can feel the shockwave coming down. You can see fireworks everywhere in Limbang, we assume that fat cats are competiting to see who has the biggest boom of the night. Thus we enjoyed the firework showdown, such a beautiful sight and they must emptied their wallets to do so.
It is day one of Chinese new year already, cousin Rachael has to go back to Brunei already. Since she is leaving back to Melbourne very soon, before they left we had a group photo sessions of the cousins. Baby Zephyr is just so darn adorable, we just to take photograph of him.
The serious shot
The crazy shot
I think blowing up things runs in the family blood, we can blow up almost anything you want. But we could not blow up the pamelo, we had be warned. It has been a wonderful time there, great food, great company and great fun. Till then, we will meet again in Limbang.
Labels: chinese new year, Fireworks, Yee Sang