Dynasty Chinese Restaurant
I have probably have patronized this place for a couple of times already, I still like the food there very much because they consistenly maintained the quality of the food. Last night Auntie Changyi and Kynan Invited me over for dinner, Kynan picked me up after my training sessions at the gym. We arrived there around 7:15pm like that, we were greeted by friends of Auntie Changyi.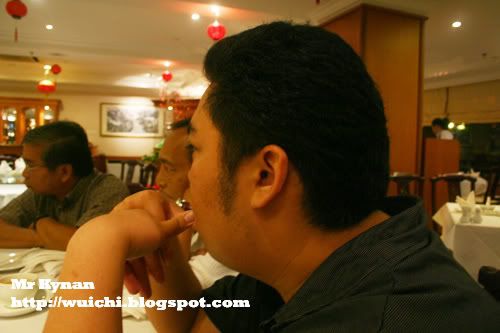 The first dish of the night was roasted suckling pig, I have tasted the suckling pig there before and I know it going to be very delicious. The crispy skin and the juicy tender meat was simply marvelous, not too charred and it was just perfect.
Next we have the fried meedin with wine, this is a very common dish you can find in almost every Chinese restaurant here. The meedin tasted great, there was no sticky feeling when you chew it.
Up next it's the seafood box tofu with green vegetables, this dish takes a lot of skills to prepare. The tofu is really delicate and easily damaged if not properly handle. The chefs managed to create a box out of the tofu with damaging it, stuffing it with seafood and mushrooms. Excellent work done by the chef, you guys have to try it if you go there.
Last but not least, it's the okra(I think that is what it's called) The okra consist of lady's fingers, egg plant, and beans. I am not a fan of ladies fingers and eggplants, I ended up digging up the beans for myself. It actually tasted very much like the ones I had at Pinnoy Pandungan Kuching the Filipino restaurant. Pretty good and a little spicy.
Actually there was a plate of fried noodles but I have forgotten to take a photo of it, we were all stuffed by the end. It was fantastic, at least we do not feel bloated and that is the kind of feeling you should have after a dinner in order to go for after dinner booze. Dynasty Chinese Restaurant is strongly recommended by me, the price is moderate but it is very worth it.
For more info or bookings please call 085-421111, many thanks to
Kynan
and Auntie Changyi for the lovely dinner
Labels: Chinese food, Chinese Restaurant, Dynasty Hotel Miri