Horny model
Today i managed to get myself a horny model to for a photo shoot, check the photo below.
What were you thinking? It's a Rhino beetle, Sorry to let you perverts down. This is one of the very rare species of beetle found here, I was very fortunate to have stumble upon it last night at Canada hill. While photographing the beetle halfway, something was wrong. I heard a weird snapping sound, it's not the usual sound you hear when you snap something with a DSLR.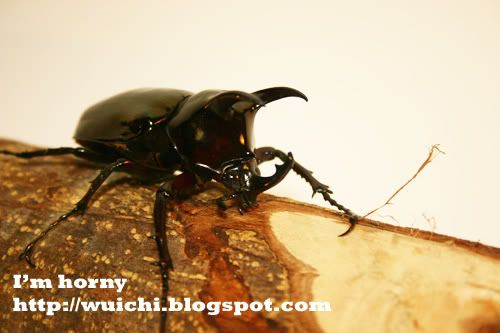 When i look at the LCD, it is every photographers nightmare coming true. My DSLR is busted, *NOOOOOOOOOOO!!!!!!!!!!!!!!!* It could be the shutter or the sensor's problem, I don't know which is it and all it says is error 99. It looks like I am going to be DSLRless for a while, hopefully my warranty card is valid and if not I might have to burn a hole in my wallet for the repair cost. Thank goodness I still have my trusty compact camera, which i managed to snap another shot of the horned beetle before letting it go.