Feel the rage!
Feeling enraged? Depressed? Then you are up for the almighty veteran of heavy metal music. Korn just recently released their latest album called "untitled" Jonathon Davis mentioned that the reason they did so, was so that the fans can call it what ever they wanted to. I have to give this veteran band a well deserve respect, with the departure of the guitarist and their drummer who is on a one year hiatus and still able to work on the new album.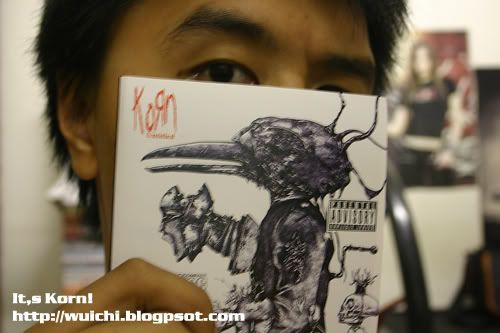 Although I am not a big fan of Korn, I was just curious of what the tunes of this album would actually sound like. I got myself the cetak rompak version of the cd( I'm sorry!) after hearing the whole album, the tunes have completely change, it wasn't heavy as it was previously. Instead, I believe that lead singer Davis has a plan of his own for this album, either they're experimenting with new stuffs on the album like adding more melody and other sounds they can think of,
I personally think that the band can certainly come out with something better, something that can shake the metal rockers heads hard enough to knock themselves out and make them feel the vibe from the core. Good effort but it may not be very good for the Korn fans who has high expectation for the band.
A fair three out of five stars rating from me, when do you listen to it? Listen when you are feeling the rage of young Anakin skywalker(give yourself to the darkside!)
By the way, sorry for the lack of updates. I was feeling like a couch potato for the past few weeks, I'll be going to Brunei , Kuala Belait this weekend. Will update soon