It is a good day
It's a really good day for me, i am officially having my break now and i do not have to worry much. Me and Olga shared a crazy thought in our minds, it's something we wanted to do and we did not get to do. Finally we got the chances to do so and we decided to do so, guess what did we do? well? you are thinking of that thing? LOL if you were thinking of that i caught you red handed already.
The both of us had a piercing today, please refer to the photo & video below to see which part of our body got pierced. Since we both did the piercing, at least we can both bitch about the agony we are going through. Kynan dropped by later to join us at the coffee bean, he was trying to post the myspace style photo.
That's not the best part, today the cast of possesed came to bintang plaza to do a promotion on the film. I am sure some of you had read it from
Kenny sia
, about Amber Chia starting to mop the floor with her head in the movie. It was an opportunity for every Amber Chia fans to see her in person and to get a photo with her. They organized a few games to get the crowd's interaction, a few selected people will need perfom an act of being possesed and best acting will win a poster or a gift.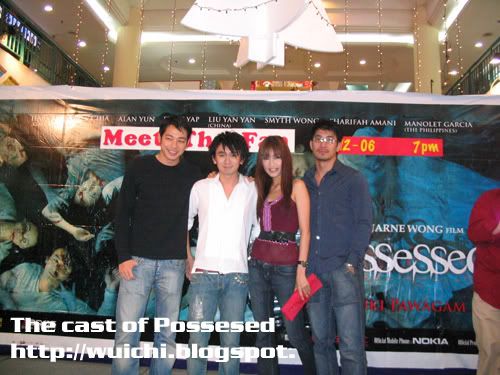 When i was about to go to the loo and i heard that it was time for photo session, i did not dare to miss this opportunity i had and here's photo of Amber Chia and me.