Dining at Surabaya
Want to have a taste of Surabaya food without flying there? you can have it here in Miri now. I never thought that Miri would have an Indonesian restaurant, yes you can laugh your ass off as i am feeling ashamed for being a Mirian for not knowing where the good grubs are at. Olga being the good friend informed me about the restaurant's where about, i never try Indonesian cuisine before, so we decided to drop by there.
A simple and typical coffee shop concept was used by the proprietor, at first sight i was not convinced that the restaurant's food was Indonesian. Because of the concept used, the restaurant looked more like a typical Malay restaurant. It was not until i saw the kicap manis(sweet soy sauce)on the table that proofed me wrong, it was imported from Indonesia.
What made this restaurant unique was, a waiter who actually spoke Mandrin to us. I was so surprised by that, probably he is a Chinese? or the wife is an Indon? who knows and who cares as long we get good food there. We ordered Nasi Lalapan, Nasi Soto, and Nasi Rawon.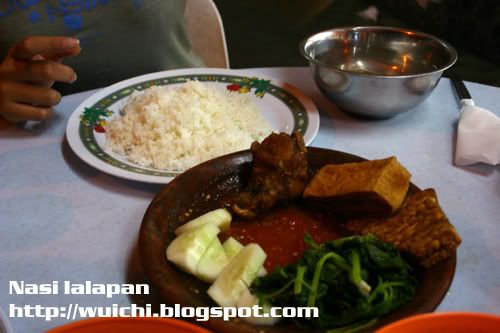 Nasi Lalapan, the dish looks very similiar to our local rojak. The dish consist of beancurd, cucumber, spinach, chicken and a mysterious thing, it tasted a bit like rojak too and extra spicy!
Next is the Nasi Rawon, i ordered this one. A bowl of beef soup accompanied with a lime, sambal and barley as condiments, the soup tasted a little bit sour and it's spicy. The beef was not chewy at all, the chef must some sort of technic to cook this dish. For Sour and spicy lovers, you can try the Nasi Rawon.
The Nasi Soto, ordered by Rining. To be honest with you, until today i am still clueless about Soto. I have no idea what exactly is Soto, all i know is it has this sort of curry and salty taste. However i took a sip from the Soto, it has exact taste that i remembered from the Soto flavoured instant noodles i ate.
The summary for Surabaya restaurant, the service was good and they served the food extremly fast. The food comes after 1 minute you order it, and a waiter who can converse in multi language. A heaven for spicy food lovers, the next thing you know is when you pass motion the next day you will scream " FIRE IN THE HOLE!!!" let's not hope that i would scream the next day.