Lok Thian Restaurant
Lok thian restaurant is very well known in Kuching city, it's a three storey high building located at the padungan area i think? Correct me if I am wrong on the location. Lok thian consist of a Thai restaurant on the ground floor, Lok Thian Restaurant itself on the first floor and Shanghai or Beijing restaurant on the second floor I think. I have no idea why would they add another floor of Chinese restaurant when you already have one, probably they are serving authentic mainland China's dish?
It was another dinner for the Yeo family members before everyone departs to their each respective home, while waiting for the food to arrive I took photographs of my cousins and my brother. I think most of don't know that I have an elder brother, you shall a photo of him below.
First dish of the night, fried mee suah. The thing that I liked about the mee suah was, they added mushrooms to it and it brings in aroma.
The oyster pancake or oh jian, crispy on the outside and soft on the inside. It was a delicious, the flavor and the aroma was heavenly. Speaking about oh jian, it reminded me of the post
xes
made about the oh jian.
The third dish, grilled barramundi fish. Sprinkled with lots of fried garlic and properly charred, this is absolutely wonderful. All you get is the natural flavor of the fish, because they did not put much salt in it.
Shark's fin soup is the fourth dish and I cannot help myself for not feeling guilty about this, but it was so irresistible. Sorry
WWF
, it was so good that I cannot help myself for not eating it. Next time I will try and not order shark's fin soup.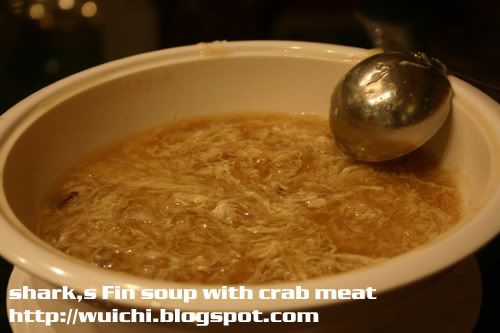 My favorite dish has been served, it's pork. The fried pork ribs was luscious, tender and juicy. Very well done, now it I feel having some pork ribs already after seeing the photo.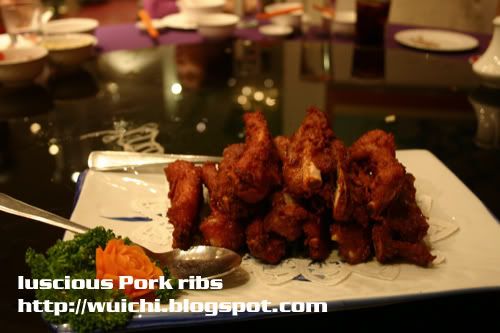 Next dish, is the black pepper tofu. I didn't really like this one though, it was not my cup of tea. It is something for me, since I never tried black pepper with tofu. It's alright and cousin Moses liked it, he finished the whole thing up.
Last dish, yam basket. By the time they served the last dish, our stomach are already bloating up with the previous dishes. It's my first time seeing French fries been added to a Chinese dish, I thought it was fusion and very creative.
The verdict of lok Thian restaurant, the food was very good except for the black pepper tofu. Presentation and decoration was good too, recommended by me if you drop by at Kuching, it is not hard to find since it very well known in Kuching. I wished that I have more time to explore the culinary treasures of Kuching, but time was the thing that I do not have. Maybe next time then.
p/s:
ah yang
this specially posted for you, enjoy :)