Hawaiian chocolate
I bought some chocolate from the Kuching airport before my flight back here, The chocolate shop sells varieties of imported chocolate which nearly burnt a hole in my wallet if i do not control my crave for chocolate.
Here's the Hawaiin host with macadamia nuts, RM 4.90 for two in a packet. Now that is expensive for a packet of chocolates, you can find out more at
www.hawaiianhost.com
.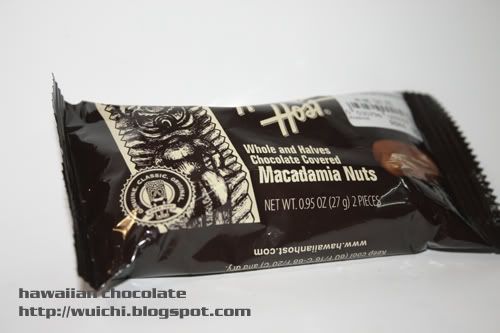 The moment you open it, the aroma of macadamia nut is lovely. soft on the outside and crunchy on the inside, i am not a big fan of nuts but this is one good nut. Simply scrumptious but expensive and it can't be purchase at the retail outlets, if you have a sweet tooth or you love chocolates like me. I found that
macadamia nut
is actually from Australia and the chocolate is manufactured in Hawaii? maybe Hawaii planted their own nuts there.