Rain
I love the weather tonight, it's just nice and cool. I haven't sleep in a weather like this for quite sometimes so tonight it's a good night to sleep.

Let's talk about Miri, it's known as a small little town right? but not anymore it's getting better(hopefully) it's going to be declare as a resort on 20/may/05 and i am going to be bloody busy on that day at work as well.

There's a couple of new stuff around Miri, such as a newly open Italian restaurant. At last there's a good Italian restaurant in Miri, I brought my family there for mother's day and all i can say is, the fettucine cabonara there is absolutely fantastic! besides it's a good place for you to bring a date there and impress her hehe. The price is worth for the food and services there, i guess i'm going to go there again for the pizza this time.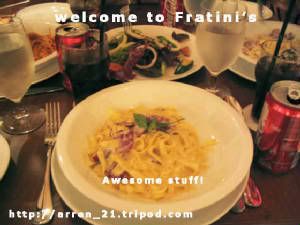 Labels: Fratini's, Italian Food, Pasta