Fucking bastards!
I had a terrible day at work today, for no good reason i was scolded by two fellows. I knew today would be a bad day, i just knew it from my previous experience. No thanks to the three bastards who didn't want to check out from the rooms and which gave us nothing but trouble and no rooms to sell, Thank you very much you fucking bastards i got scolded by people because of you pathetic little bastards, you just ruined my day, so fuck you again! you incosiderate bastards, who thinks about themselves only and doesn't think about others.
It always seems that when you had a really great day and after the next day your day is fucked up,(at least i had a great day yesterday). My company sent me to a course at Dynasty hotel, which was good! free food, no work! freebies, and Free toilet paper(well the freebies wasn't really that fantastic) I decided to drop by the chinese restaurant where i used to work and visited a few old friends there. doesn't the food looks like it's covered with something?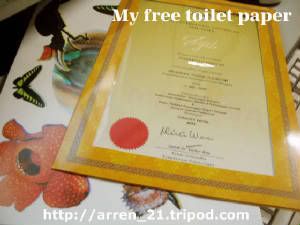 It does look that right? haha but it's not that ok and it's good food :) i went off to Bintang plaza and saw this dude singing, my friend told me that his singing is a bit similiar to jay chou(a local guy) and i was like "ohhh" well i just took a picture of him for the fun and decided to disturb a friend of mine who's selling perfumes(wahaha free samples!) yeah i get to try the Estee lauder for men. Now i know where to go if i need to smell nice hehe.
Labels: Chinese food, Dynasty Hotel Miri