They sell it here???
To what i heard from sister, i can't believe it for myself. My sister claimed that watson's is selling the japanese snack that me and her saw it at http://www.yongfook.com/, what you can find in that site is reviews about japanese food by jon. I rushed quickly to watson's at Bintang plaza and i was sure glad that it was there waiting for me to purchase it :)




RM 5.10 for that, after buying that i can't wait to go home and unpack it to get a taste of it. After i open it and took the first bite, it was good. Too bad there wasn't much left there, if not i would have got more of that.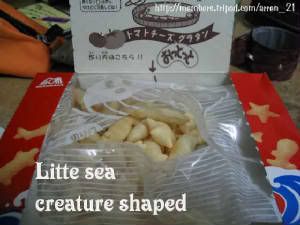 I am really impressed with what japanese people can do with their technology, and with those of tech that produced that kind of food. shapes of little sea creatures, it's not too salty like those Mr potatoes chips or double decker crap and it's hollow. That made me wonder how did they do that, not to mention the size of it is serious tiny. From now i'll start venturing into trying new japanese snacks, and many thanks to http://www.yongfook.com/ for the info.