Unsatisfied but yet happy
This probally one of the worst thing or a funny thing if you can say that has happen to me, Starting from yesterday onwards. The hotel has implied new uniforms for every staff from every departments, The coffee house staff's uniform looks very unique and oriental(sorry no pic to show) but what about the front office staff's uniform? I really don't know how say this, whether to appriciate it or to hate it, the uniform is seriously an ugly shit, in fact the ugliest shit which i will be wearing everyday with a smile.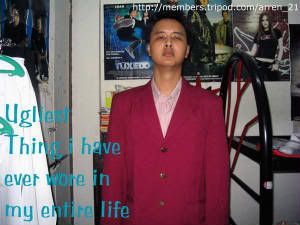 Don't you guys think that uniform it's really a big joke? What can i do? since i'm working there and i have to obey the rules, obeying the rules means doing what we are told and wearing that ugly thing. Let's look on the bright side shall we? I don't have to pay a single cent on that shit and i get paid to wear that, isn't that a good thing?
The happy part, how would like to have a brother who is a big spender(like me) and after a while he doesn't want the things that bought, which he wants to get rid of it. Well i am the dude who wants that bro, since the things he bought ain't cheap at all and it's good branded stuff hehe. So let's see what i got from him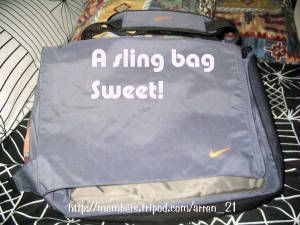 Well it's not exactly new stuffs, but both of that stuff happens to be what i wanted to buy actually. A sling bag and a levi's, i am really blessed to have a big spender bro like him, so bro go spend more on those goodies and when you get tired of it, you'll know where to get rid of them *grins*